Olympian School of Swimming
The Olympian School of Swimming is one of the largest private learn to swim organizations in the country. Olympian Swimming provides both swimming lessons and competitive swimming to over 7000 children and adults in Toronto, and surrounding areas on a weekly basis, year round, 7 days per week. Established in 1995, Olympian Swimming has proven to be the fastest growing swim school in the Province.
We are owned and operated by Professional Swim Coaches, Shauna Nolden, 2000 World Championships Team Coach and 2000 Olympic Games Swim Coach and Gary Nolden, Head Coach of the Toronto Olympian Swim Team.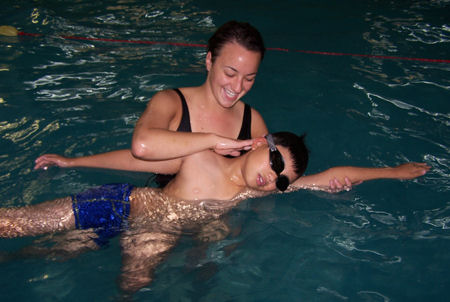 We offer a complete progression beginning in our "BLUE" program which encompasses all learn to swim programs from level 1-12. Swimmers then have the option to progress into our "ORANGE" program which encompasses all pre-competitive programs (level 10 & above). Our final stage is designated as the "RED" program. This represents our highest level swimmer which is at the competitive level. Swimmers also have the option to pursue Lifesaving courses offered in our "GREEN" program.
Our instructors are trained regularly and on-going ensuring a depth of experience and qualification second to none. We have professional competitive swim team coaches on staff working with our instructors so they are able to deliver top quality service at each stage of development.
Olympian Swimming in the Media:
The Olympian School of Swimming offers:
Professional Qualified Caring Instructors (Royal Lifesaving Society) trained extensively and on-going by our Professional Competitive Swim Team Coaching staff.
Professional Competitive Swim Team Coaches.
Technical knowledge at all levels of swimming ranging from the beginner to the advanced competitive swimmer.
Our third large, 25 YARD six lane pool is at our Midland Ave. location; perfect for the advanced and pre-competitive/competitive swimmers.
Clean well-maintained facilities.
Flexibility in scheduling. No waiting for session times!
Comfortable viewing area and gallery.
Low teacher-student ratios.
Private lessons.
Fully stocked swimming store.
Full Day Swim Camps (March Break & Summer)
3 Locations Serving Greater Toronto & Surrounding Areas